Turning now to look at budgeting for your business, the first step is finding hidden money to invest in your home business.
The key is to look at not just your current budget but all of your shopping and purchase habits.
Here are a few questions to get you started:
Do you take a packed lunch to work or eat at the restaurant or fast food joint down the block?
Do you walk to the corner market or do you drive?
Do you attend the matinee or the prime time showings of movies, or maybe you wait until they hit pay per view so you can view them for a fraction of the cost from the comfort of home.
Do you buy books or do you check them out from the library?
How about carpooling, or taking the bus or subway, cycling or walking to work?
Do you take dry showers where you turn off the water while you lather and wash your hair and rinse as fast as possible instead of soaking or taking a water wasting bath?
How about cold showers – very invigorating and save on your heating bill!
Is your air conditioning set at least 2-3 degrees warmer during peak times from noon to 7pm?
Is the laundry done before or after those times?
Have you gone all energy star electric appliances?
Do you own a solar panel?
Do you have any subscriptions that you could cancel, including cable or satellite subscriptions? Spending less time watching cable TV and more time working on your business will save you money – and help you to earn money more quickly at the same time.
There are hundreds of ways to reduce household budget and spending, so ask yourself questions before spending money.
Having a clear sense of purpose about your business – what it will help you to achieve in your life in the future – will also help to motivate you to avoid wasting money that could be allocated to your business budget.
How to make the most of your Home Business Startup Budget
When looking into a home business you will likely be new to marketing both online and offline, so the biggest challenge is the learning curve.
As we said in our previous article on starting a business on a budget, affiliate marketing is the cheapest way to start a home-business. Even so, you can still find yourself wasting money on stuff that doesn't work (typically, bad online advertising decisions).
If you are trying to build an affiliate marketing business, you can get great free training with the Strong Future International Marketing Group, which is the affiliate arm of TripleClicks.com – an online shopping portal and penny auction website.
I explain the SFI business opportunity in more detail elsewhere on this blog. You might also want to Click Here to read about the  monthly competitions I run for my SFI team. If you are not in SFI already, Click Here to Join My Team Free Today and start building your online business on a budget with our support.
Also, if you want to build an affiliate niche-marketing business around a blog platform (which is the model I use on this blog, HomeBizWeekly.com), you cannot beat the training provided by Wealthy Affiliate which specializes in niche-market focused business blogging.
Wealthy Affiliate is packed with so many training resources, with articles, videos, and a lively social networking and live-chat community, and also a lot of business building resources that you can use to grow your blog traffic. Click Here for my review of Wealthy Affiliate.
Budget Web Hosting Options
You will also need an affordable self hosted blog on your own domain name from a hosting provider such as Tuned Hosting which offers an excellent low-cost package for shared hosting.
If you are shopping around, be sure to compare features and limitations of each and look at cost of service at least two years in a row as some will charge you $5 a month for 6-12 months and then renewals are like $14.95 a month or more after a year is up.
You will find with Tuned Hosting an easy install option for WordPress Blogging software. You can also watch free training videos on Youtube. Don't settle for lesser blogs just because they look easier to operate, they are easier because they are not even close to equal to the power of WordPress.
What if you are on a very tight budget and cannot even afford low-cost webhosting at this stage?
Don't worry! You can run a free WordPress blog with Site Rebux on a free membership account with Wealthy Affiliate – and get all the training you need into the bargain.
You will continue to need more training as you develop your business. Instead of buying the hot new trending products costing anything from $47 to $297 (or more), you can learn most skills by purchasing e-books for less than $10 from TripleClicks or by discussing your questions free of charge with Wealthy Affiliate members on their discussion site.
I also recommend that you pay special attention to social media marketing tips and make a point of dedicating part of each day on promoting your business through social networks, not least because that is an excellent way to make use of free resources to reach out to your target audience.
My last tip in this series is to subscribe to free industry blogs such as JohnChow.com, TheFreeGuru.com, and of course, HomeBizWeekly.com.
If you Opt In Here you can download HomeBizWeekly's free ebook, Insider's Guide To Working At Home On The Internet and receive our weekly newsletter packed with home business tips for Internet marketers.
I hope you enjoyed this two-part series on how to start a home business on a budget. If so, please like, share, and leave a comment below this post. 🙂
David Hurley
HomeBizWeekly.com
I arrived home yesterday afternoon to find a parcel from SFI waiting for me in my post box. Inside were two of my Unstoppable Contest prizes.
I'm in the Unstoppable Top 10
As I reported in a previous blog post on this topic, I was in the Top 10 of the August Unstoppable Contest and I won an "Unstoppable Top Ten" t-shirt and SFI's black baseball cap, which were what had arrived in the parcel. I also won $50, which was added to my SFI Signing Bonus account. Nice!
Home Alone!
I'm home alone today as the wife and daughter have hopped onto the bullet train to Osaka to see the Japanese version of  the Viennese musical "Elisabeth."
So, with some free time on my hands, and the house nice and quiet, I thought I'd bash out a quick smart-phone video showing off my latest SFI gear!
Anybody Can Win With SFI
As I say in the video, anybody can win with SFI if you work the system, treat it like a business, build up your team, help your team with real rewards every month and you yourself will begin to see these kind of rewards (i.e. Leadership and Unstoppable prizes, as well as a growing downline and commissions that increase month by month).
Yes, SFI is a fine free-to-join online business with excellent products and services, and a track record that goes back over 15 years. There are so many ways to make money with SFI as I explain in my review of SFI elsewhere on this blog, and in today's video:


If you have any questions about SFI, feel free to post them as a comment, below, or use the contact form to send them directly to me.
David Hurley
SFI Gold Team Leader
HomeBizWeekly.com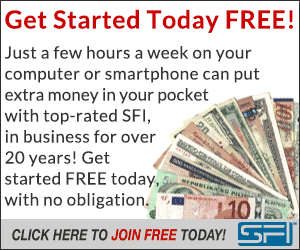 The household budget can be the biggest factor in deciding whether or not to start a home business. It could also be the main reason you give if you decide to quit your business before success kicks in.
Let's face it, most people are short of money and are also creatures of comfort. The two combined can make it look like there is just no room in the budget for things like starting a business even though the only way up and out of your current income bracket may be home-business ownership.
The one program that I have been since I first started online affiliate marketing in 2007 is Strong Future International (SFI).
2007 seems like a long time ago now, but back then, when I signed up to SFI, the program was already eight years old having been started by Gery Carson back in 1999!
So I guess you could say that SFI isn't a fly-by-night get-rich-quick scheme.
1. Give It Time!
Yes, building an online business with SFI (or any legitimate online business) will take time and effort and you may even feel like quitting just inches from success.
Success in an offline business typically takes 2-3 years of effort. That's the point when most businesses finally break even and start turning a profit.
Looking back, I was just about breaking even month-by-month with SFI by 2009.
Then, when SFI launched Tripleclicks in 2009, I became an E-Commerce Associate and was able to increase my SFI-related income by selling my own goods and services on the site.
If I had quit in 2008, when I was not making any money, I would have missed out on all the fantastic innovations – and income-earning opportunities – SFI has introduced since then.
Last week I came home and found an attempted-delivery note in my postbox. I had no idea what the parcel was and I couldn't recall ordering anything in the previous few days.
I scheduled a re-delivery on the Japan Post website and the mystery parcel arrived the following evening. As soon as I saw the SFI logo on the box I realized that I'd received surprise box of goodies from SFI. I had won another SFI Leadership Prize. Cool!
SFI sent me a "Build Something Great" t-shirt, a set of earphoness in a storage box, a large plastic mug, and a "Team Work" squeezy rubber thingy. 🙂
Here's a photo of what was inside the parcel. (Actually, the sunglasses were in a previous SFI Leadership Prize package, but I couldn't resist including them in the photo.)

Thank you, SFI. I really do appreciate the recognition for my efforts. I am proving that "Team Work" really is the key to success with SFI. We really can "Build Something Great" with SFI through Team Work.
I totally believe that, and that's why I am so keen on investing in my team through my VP Competition and PSA Challenge every single month, as well as running a Guaranteed PSA Co-op exclusively for my downline, which I believe offers better value for money than any other recruiting option available to my team through SFI or through private suppliers on Tripleclicks or elsewhere.
Proof That My Team's Team-Work Works!