Get Your Own 100% Commission Funnel Here!

CommissionFunnel is part of my advertising portfolio because it builds my downlines & delivers 100% commissions.
Now Commission Funnel 100% Commissions reveals how YOU can start earning tasty commissions and build YOUR downlines too! Highly Recommended!
No Opt-in Required!
Simply Click The Link To Instantly
I have been an SFI affiliate since 2007. On January 5th, 2009 the SFI Tripleclicks sales site was launched. Since 2009, Tripleclicks has grown massively and gives every SFI affiliate a shop-window for their own products and services.
Even so, I have noticed that a lot of affiliates tend to focus on growing their SFI affiliate downline while neglecting to build the Tripleclicks side of their business.
There's absolutely nothing wrong with building an SFI team. In fact, I would encourage you to build and support a very active SFI team. BUT… it's definitely not the only way to profit in SFI…
No matter how large and active your team gets, if you're not actively promoting Tripleclicks, you're leaving a lot of cash on the table. That's why I encourage everyone on my SFI team to fully incorporate Tripleclicks into their SFI business.
So, today, I want to reveal a few of my own SFI Tripleclicks strategies, which you can easily duplicate.
4 Ways To Profit from SFI Tripleclicks
One of the things I love about Tripleclicks is that it offers unique possibilities for SFI affiliates. You're simply not limited to being an affiliate. You can list your own products and become an E-Commerce Associate (ECA).
You can also invite other businesses to open their own online ECA store, and earn commissions on their sales for life.
With that in mind, here are the top four strategies I've used to create a steady income for myself with the Tripleclicks platform:
1. Promote Products & Earn Commissions
When you concentrate on promoting Tripleclicks products for commissions, you'd better be clever about it. With over two million SFI affiliates promoting these products, you simply must stand out if you're to earn any sales.
One way to do this is to choose a group of related products and build a niche business blog around them. One example would be SFI Tripleclicks own brand of Health and Wellness products, and even create your own banners right from the SFI Tripleclicks sales page, like the one below:
Your aim should be to create good quality content. By "good quality" I mean relevant content which solves existing or foreseen consumer problems in your chosen niche.
Do that consistently enough and you will get known as an expert and gain enough trust to make your recommendations worth taking up.
2. Sell Business-Building Products & Services
Believe it or not, the two million SFI Tripleclicks affiliates make up a massive market for various business building products and services.
Think about how every affiliate is trying to get new leads to signup via their links. Each one wants traffic and would die for guaranteed signups. If you're good at generating the right kind of traffic and leads, you might be sitting on a little gold mine.
3. Invite New E-Commerce Associates
Do you know a small business offering products suitable for SFI affiliates and Tripleclicks members? Get them aboard the ECA program for a 10% cut on their sales!
You'll probably not signup scores of ECAs into Tripleclicks. But all you need is a handful of ECAs with laser targeted products. And you're in the money for a lifetime.
4. Sell Physical Products
As part of my online business portfolio, I am a Tripleclicks ECA. I sell Japanese mahjong sets and related accessories. Selling physical products is one very lucrative business area. Yet, very few SFI affiliates take advantage of it.
You don't have to be a factory owner to sell your own physical products on Tripleclicks. You can easily harness the power of dropshipping to sell physical products through SFI Tripleclicks' ECA platform.
One of the simplest ways to find legitimate dropshipping wholesalers is by joining Worlwide Brands – I'm yet to find a more comprehensive database of real wholesalers who'll reliably dropship to your customers. Combining Tripleclicks with Worldwide Brands is definitely worth a try if you want to quickly launch an online retail business without having to buy and store stock.
Are You Taking The Right Action?
As much as I encourage you to 'take action,' I also think it's important not to treat every activity as progress.
The kind of action you want to take is whatever helps to move your SFI business forward through sales and commissions. Anything else is probably just good for keeping you busy for nothing.
With SFI, you should aim to maximize profits by including Tripleclicks as a key part of your strategy. Tripleclicks can be used to reach out to SFI affiliates, whether they are in your downline or not. It can also be used to find non-SFI customers for your business by offering business-to-business and non-business-related products and services.
So, if you have been ignoring Tripleclicks, now is a great time to incorporate these four simple ideas to boost your profitability with SFI.
David Hurley
HomeBizWeekly.com
P. S. Interested in joining my SFI Tripleclicks team? Click here to see what I offer my active team members every month!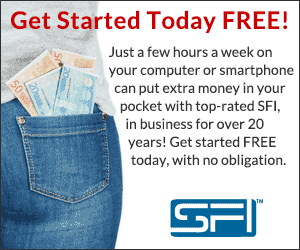 If you like our articles, why not
subscribe to our FREE weekly inbox newsletter
? You will also receive a FREE copy of David Hurley's 51-page report,
An Insider's Guide To Working At Home On The Internet
(updated every year since 2012).
Zubee collectors
can also claim a
Gold Zubee every day
. Watch out for our Diamond zubees too (subscribers only)! Simply fill in the form below to claim your freebies and receive our latest business tips every week: