The household budget can be the biggest factor in deciding whether or not to start a home business. It could also be the main reason you give if you decide to quit your business before success kicks in.
Let's face it, most people are short of money and are also creatures of comfort. The two combined can make it look like there is just no room in the budget for things like starting a business even though the only way up and out of your current income bracket may be home-business ownership.
Seeing "How to Start a Home Business on a Budget" is not always clear…
Some affiliate business programs have high startup cost such as sales kits, or product auto-ships. Others charge a business start-up fee or franchise fee before you have a chance to learn the business, much less earn any money.
You will also find a business license is a must and if you purchase physical goods for resale you will need a tax number and could end up requiring the services of a licensed bookkeeper. There are product purchase costs in some home business opportunities, and every business needs advertising over an extended duration to succeed.
How then do we start a home business on a limited budget?
I advise most people looking at a home business to look at one of three types of business if they are tight on investment income. The first is Drop-Shipping , the second is Direct Sales, and the third is Affiliate Marketing.
In the rest of this article I will give you a brief overview of the pros-and-cons of each business as well as a description of how the business model works.
Drop-Shipping
Drop-shippers offer products for sale without the seller having to own or store any inventory. They join groups like DOBA or (my recommended choice) WorldWideBrands that provide retail sales training and extensive contacts with companies that will allow you to order their product in small quantities and send them directly to your customers in your company's name.
Pros:
No expensive inventory,
Access to millions of products,
Well researched and proven industry with plenty of room for niche growth,
Over 100,000 ways to sell online.
Cons:
Costs vary from $60 to 600 a year for a wholesale club membership like DOBA or Salehoo.
Licenses required including tax permits.
Time to learn retail sales techniques like proper pricing.
Risk of Scams due to people who would sell the idea of buying on Amazon doubling the price and selling on E-bay or other similar con games as legitimate drop shipping.
The biggest issues in drop shipping are: loss of reputation in the case of credit card fraud; chargebacks; damaged goods; refund policies. Even when everything seems good on your end, the supplier may be out of the product or no longer carries the product your customer ordered and has already paid for.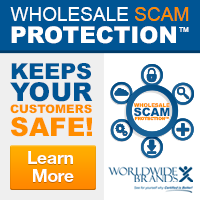 The online retail business requires constant research and study, but if you can crack the code you can make six figures or more in drop-shipping.
One solution I found a few years ago, which continues to offer excellent advice based upon sound research today is WorldWideBrands – one of the few such services that is officially approved by eBay.
WorldwideBrands offers lifetime membership for a $299 one-time only membership fee. For that you will get access to a massive database of well-researched and trusted suppliers that is updated every month.
Even better, they don't just focus on drop-shippers, but also light-bulk wholesalers (for smaller quantities), large-volume wholesalers, instant import buys and liquidation deals.
Direct Sales
Direct sales puts most of the licensing, regulatory issues, return policies, and headache on the hands of the parent company. Some of the best-known direct sales companies are Avon, Mary Kay, Kirby Vacuum Cleaners or Jewellery in Candles.
Pros:
Low startup cost, in many cases you can start without a representative website and with a small sales kit designed to get you started and earning your way into a bigger outfit.
Commissions are typically bolstered by the ability to refer other representatives.
Lead generation is often outsourced to one of the prospective clients by offering a commission in the form of a gift certificate (guaranteed order) to someone who invites 3 or more friends for a party plan sales gathering.
Cons:
Commissions tend to be low.
They may not tell you clearly up front about minimum sales quotas.
You have to pay for catalogues and websites, which usually generates a profit for the company even if you don't make sales, all of this on top of your business kit or monthly minimum sales volume.
The worst part with direct sales is it takes tons of leg work, a couple years, dozens of referred reps under you, and tons of sales for you to make a fraction of what you would as a drop shipper.
Affiliate Marketing
The last of these is our personal favourite at HomeBizWeekly.com and has minimal home business start-up cost. In fact affiliate programs cost you no upfront franchise fees, no sales kit fees, no replicated site fees, no inventory, and you don't have to handle sales taxes.
Instead you take your custom URLs, banner ads or sales graphics and promote them online (and offline as well, if you wish) and collect a commission when sales are made.
Most affiliate programs offer larger commissions than direct sales and some offer lifetime recurring commissions.
Pros: 
Low-to-zero start-up costs.
High potential income in sales commissions.
The chance to build residual income through programs that have subscription-based products or services.
No packing or shipping.
You can do everything from the comfort of home.
Cons:
Most affiliate programs come with little or no training.
To succeed you may need to set up your own blog and pay for hosting.
It takes time to promote online and keep track of multiple ad campaigns.
Each of the cons has a solution.
For example, a few affiliate companies such as SFI and Wealthy Affiliate provide excellent training, so if you are inexperienced, you will be giving yourself a helping hand by joining one or both of them.
As for blog hosting expenses, if you join Wealthy Affiliate you can set up your own blog free of charge on their hosting, even as a free member.
Setting up advertising campaigns does take time, but you can keep track of your ads through services such as Viral Mail Profits for safeslist campaigns, TECommandPost for traffic exchange campaigns, and Trck.me for all-purpose ad-tracking.
In our next article we will talk about finding money you didn't know you had in How to Start a Home Business on a Budget Part 2.
David Hurley
HomeBizWeekly.com
If you like our articles, why not
subscribe to our FREE weekly inbox newsletter
? You will also receive a FREE copy of David Hurley's 51-page report,
An Insider's Guide To Working At Home On The Internet
(updated every year since 2012).
Zubee collectors
can also claim a
Gold Zubee every day
. Watch out for our Diamond zubees too (subscribers only)! Simply fill in the form below to claim your freebies and receive our latest business tips every week: