I arrived home yesterday afternoon to find a parcel from SFI waiting for me in my post box. Inside were two of my Unstoppable Contest prizes.
I'm in the Unstoppable Top 10
As I reported in a previous blog post on this topic, I was in the Top 10 of the August Unstoppable Contest and I won an "Unstoppable Top Ten" t-shirt and SFI's black baseball cap, which were what had arrived in the parcel. I also won $50, which was added to my SFI Signing Bonus account. Nice!
Home Alone!
I'm home alone today as the wife and daughter have hopped onto the bullet train to Osaka to see the Japanese version of  the Viennese musical "Elisabeth."
So, with some free time on my hands, and the house nice and quiet, I thought I'd bash out a quick smart-phone video showing off my latest SFI gear!
Anybody Can Win With SFI
As I say in the video, anybody can win with SFI if you work the system, treat it like a business, build up your team, help your team with real rewards every month and you yourself will begin to see these kind of rewards (i.e. Leadership and Unstoppable prizes, as well as a growing downline and commissions that increase month by month).
Yes, SFI is a fine free-to-join online business with excellent products and services, and a track record that goes back over 15 years. There are so many ways to make money with SFI as I explain in my review of SFI elsewhere on this blog, and in today's video:
If you have any questions about SFI, feel free to post them as a comment, below, or use the contact form to send them directly to me.
David Hurley
SFI Gold Team Leader
HomeBizWeekly.com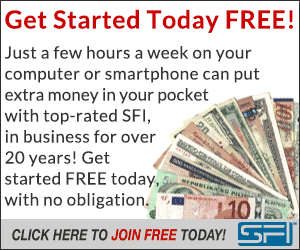 If you like our articles, why not
subscribe to our FREE weekly inbox newsletter
? You will also receive a FREE copy of David Hurley's 51-page report,
An Insider's Guide To Working At Home On The Internet
(updated every year since 2012).
Zubee collectors
can also claim a
Gold Zubee every day
. Watch out for our Diamond zubees too (subscribers only)! Simply fill in the form below to claim your freebies and receive our latest business tips every week: